Nokia...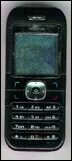 Nokia candy bar phone.  I've had 3 phones prior to this one.  Our service is AT&T.  This is - hand down - the best phone you can buy on the market.  Period.  It's $20, gets reception all the time, and is as durable as a phone can get. 
As you can probably tell, it's also the biggest hunk of shit you can buy.  It likes to multi-task.  A) hunk of shit, that B)fuctions properly.  All too common these days. 
Don't get me wrong, I love technology and all the neat things that have hit the market in the past year or two, but the best bang for your buck?  Nokia candy bar phone.  Brooke and Alexe!?!?  Right, right?!?!

The common excuse I was given by the AT&T/Cingular representative at the time about the lack of reception of my other phones was this:
"They have been putting more towers around the area so you must be getting interference.  It'll be back in no time."
Right.  As a consumer, common acronymns thrown about are Global System for Mobile Communications("GSM") or Universal Mobile Telecommunications System("UTMS"). 
We just want to get to the point, not an excuse as to why our phone will or will not work "as well" as it should.  You provide a product and a service.  That service/product shouldn't be sold until it works properly.

SNAFU(Situation Normal: All Fucked Up) and it's BS("BullShit"). 
Nokia.  Get one.